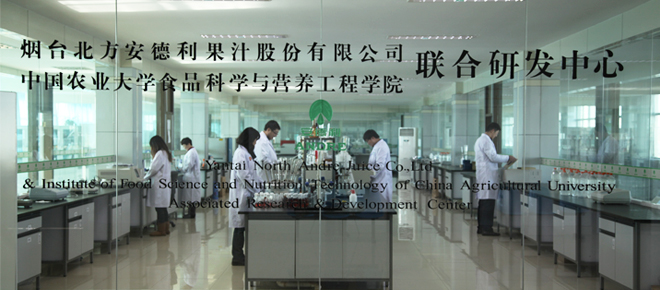 Introduction of Yantai North Andre Juice Co., Ltd. R&D Center
Yantai North Andre Juice Co., Ltd. invests more than 30 million yuan on 2003 to build a R&D Center with the international advanced level. The R&D Center has been identified as the Apple Juice Processing Engineering and Technology Research Center in Shandong, the Key Laboratory of Apple Deep Processing Technology in Shandong (In the period of preparing to build) and the Branch of National R&D Center for Apple Processing Technology. The laboratory covers an area of 2500 square meters and has a professional talent who are long-term engaged in fruit juice processing technology research and development and testing. Scientific research level and professional personnel's service quality has won the acceptance of domestic fruit juice industry and the laboratory has a higher visibility in relevant industries and units.
The R&D Center is equipped with a set of world-class level fruit juice pilot trial line and testing & experimental instrument. Through years of development, the laboratory gains a strong technological strength, a solid foundation and the overall scientific research level improves rapidly, trains a number of academic leaders and create a apple processing research and development team with a strong ability of innovation.